An internship or volunteering abroad will change your life. It gives you the opportunity to learn new skills, immerse yourself in unfamiliar cultures and develop as a person. We (and our oceans) constantly look for great people, willing to donate their time to our projects.
In exchange, we offer an unforgettable experience and the chance to 'give back' to the planet and it's community.
Marine Conservation Internship
As you already know, the oceans of planet earth are not exactly in great shape these days. In fact a quarter of the world's coral reefs, and their magnificent diversity of life, are already considered damaged beyond repair.
At COREsea, we try to mitigate this situation by partnering scientific skill with environmental passion. Together with interns, researchers, conservationists and other great people, we develop, test and apply best practices to actively help our deteriorating coral reefs.
Marine Research & Conservation Training
We run a 2-week training course for everyone that does our internship program regardless of diving level. The 2-week training programme aims to produce competent divers, seeking to work in marine conservation in tropical environments. You'll have the tools to safely monitor, evaluate and conduct surveys to assess coral reef ecosystem health and resilience.
The training encompases both practical in-water application as well as presentations on coral reef ecology and current methododology to monitor marine ecosystems.
In the training program you will learn:
Scientific diving skills – working buoyancy, navigation, transect deployment & methodology

Introduction to coral reef ecology

Fish identification & monitoring 

Coral identification & reef assessment

Coral bleaching monitoring 

Coral predator monitoring
What will I do during an internship?
After completing the training program our interns assist our ongoing conservation oriented research by collecting & processing data for our long-term monitoring program, assist in data collection for our in-house research projects, remove ghost nets, clean reefs and beaches. 
What is a typical day like?
No day ever looks the same in the tropics, but we generally work from 9am-4pm, with a luchbreak 5 days a week. The day starts with a briefing about current developments, and to plan the day. After that we'll go out for 1 dive, where we collect data, assist on current projects or get involved in conservation activities such as reef or beach clean ups. After lunch, it's time to debrief, process data or work on new projects.
What does it cost?
Our internships come in different packages, for 2, 4, 6 and 8 weeks. Longer internships are technically possible, but please send us a message first.
The first two weeks are always for training, which is why they cost us and you more. If you want to get the most out of your program we recommend staying past the 2-week training period.
Click on the Application and more information button below, for information on costs.
Who can apply?
Anybody curious about the underwater world, given you are a certified Open Water diver or higher. You do not need an academic background, but it's appreciated. More important are motivation, curiosity and flexibility.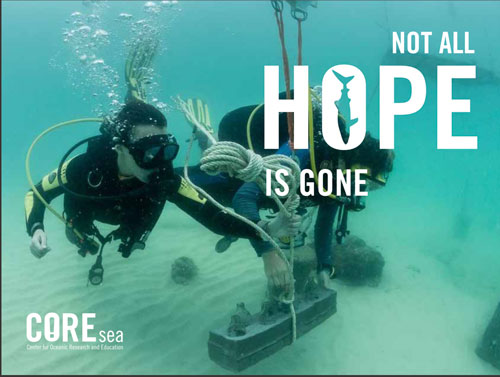 "CORE sea has been an incredibly inspiring and formative experience for me. From the moment I arrived, I was "welcomed into a family of people who care deeply about the work they do, and each other. The course has given me the most up to date methods and knowledge in the fields of marine conservation and research so I can go forward more confident and able. I came with no dive experience and now have over 25 logged and am pursuing my rescue diver certification. I am falling more in love with diving, CORE sea, and Koh Phangan each day!"
"My internship with CORE Sea has been transformational.  I wasn't sure exactly what to expect when I got off the pier in Thong Sala, but after a day I recognized the unique opportunity provided here in the sleepy fishing village of Chaloklum.  Core offers interns the opportunity to experience marine biology by immediate application in the field, while still incorporating the fundamental theory necessary to be an effective conservationist. Everyone at the station is unbelievably supportive and oriented towards making interns self sufficient from the first day.  It's invigorating to be surrounded by the tight-knit Core community, which is united around a common goal: helping the Gulf of Thailand. I can feel myself becoming more confident in and out of the water with each passing day. Suffice to say I'll be taking home a lot more than just my Core Sea hoodie when I leave."